We may think that it won't happen to us or that we're too smart to fall for a scam, but we all need to be on guard.
Here are six points to help keep you safe:
1 – Use strong passwords 
Nearly everything requires a password. As time has passed, passwords have needed to be more sophisticated to meet security criteria.
But are your passwords strong enough?
The below from Hive Systems shows how long it takes a hacker to hack into your accounts potentially.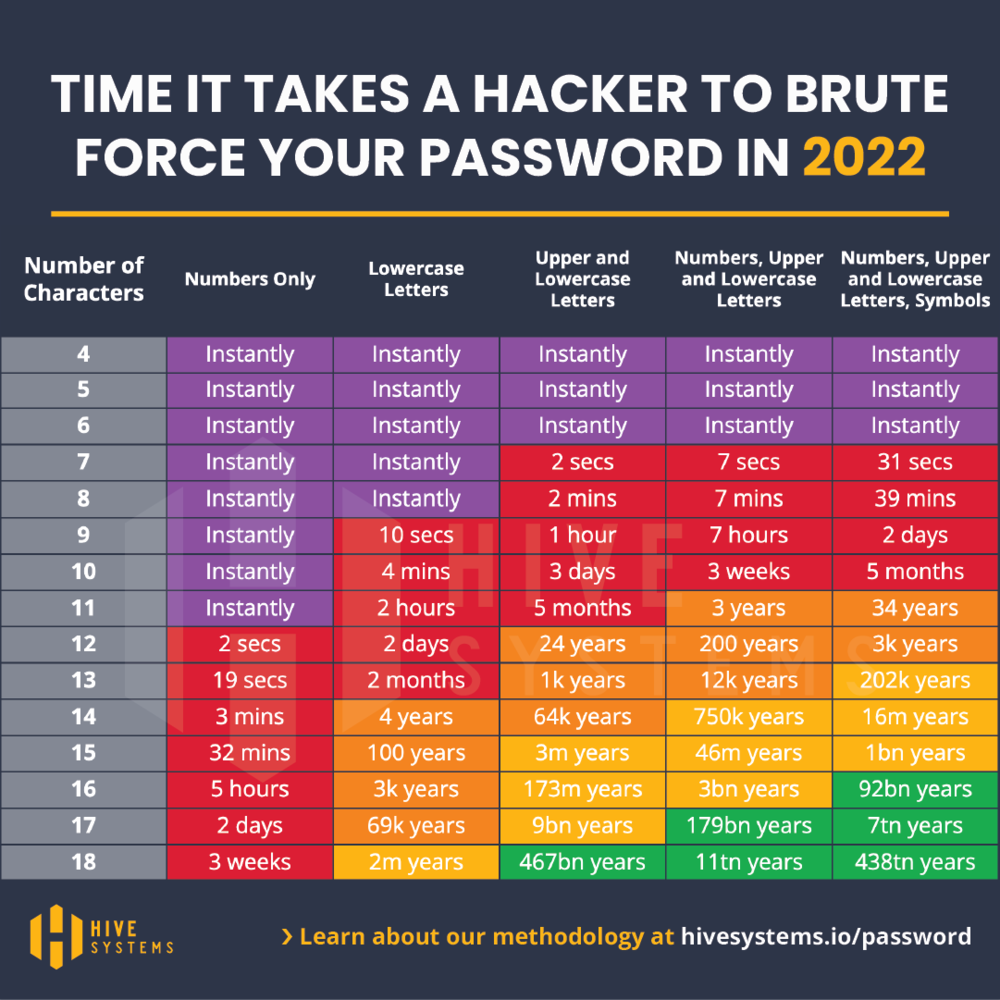 If you fall somewhere in the last column, make sure you're not guilty of using an obvious, secure password.
If you have 7 minutes spare, watch this clip from Michael McIntyre.
If it sounds scarily familiar, it might be time for an update!
2 – Be email alert 
We may no longer be fooled by emails from those claiming to be royalty or lottery winners with millions of dollars ready to transfer as soon as we send our bank details. Still, email scams are becoming more sophisticated, and it can be easy to get caught out.
In just the last two weeks, I have received emails from Amazon, PayPal and TV Licensing looking for login or payment details. Of course, none of these was genuine.
Some of these phishing emails are blatantly fake. They are often full of typos or sent from an unusual email address, not in keeping with the company name.
Some, however, can be pretty convincing.
Remember not to follow links in emails. If you are concerned about a recent transaction, log in to your account via the official website.
Do your bit to protect others by forwarding any suspicious emails to SERS@OCSIA.IM , the Island's suspicious email reporting service.
3 – Use secure portals 
Emails can also be intercepted. It would help if you thought of an email as a postcard – anyone can read it along the way.
If you include personal data in your emails, you potentially give cybercriminals all the data they need to steal from you or clone your identity.
For this reason, we introduced "Doc Safe" – our secure client portal. We ensure that clients' personal and financial data is communicated securely via our portal.
You should think twice before sending information via email. What if this information 'postcard' was read along the way?
4 – Vet your phone calls 
We are currently more reliant on online shopping than ever, and scammers know that.
Never give details over the phone. If you are unsure, hang up and call the company on the official, published contact number.
One of the benefits of using a financial planner is that we can be the contact for your financial providers.
5 – If it sounds too good to be true, it almost certainly is
A very simple statement but one that is true; we say it time and time again – there is no such thing as a get rich quick scheme.  If you think about it logically, if there were, we'd all be rich by now!
The UK Financial Conduct Authority reported 30,000 cases of unregulated activity in the past 12 months, with 10,000 investment fraud cases. A significant number of these cases are linked to pension funds, which have been built up of hard-earned money over a whole working lifetime.
Using a regulated Financial Planner and regulated pension and investment products gives you added protection.
As financial planners, we have the expertise to know what works – what will help you achieve the future you want. There are no shortcuts.
Please take a look at our regulator's guide to spotting a scam: How to spot a scam
6 – Be wary of social media and celebrity endorsements 
Fake celebrity endorsements are rife. Social media is helpful for companies to engage with their clients, but be sure to visit their official website and do your research before making any financial decisions.
Keeping the above in mind will reduce your chances of falling victim to scammers. Be alert!